Visit us at our trailer site near Portsmouth in Hampshire, call on 02392 412 731 or email sales@blendworthtrailers.co.uk for more information or advice on choosing your power tipper trailer.
Special Offer - DEBON POWER TIPPERS £3495.00 plus VAT
3M X 1.8M BEDSIZE
2600 KG GROSS WEIGHT
ALUMINIUM FLOOR FITTED OVER WOODEN FLOOR
GALVANISED CHASSIS
ALUMINIUM DROPSIDES
GALVANISED WELDMESH SIDES
8FT HI-QUALITY LOADING RAMPS
SPARE WHEEL AND BRACKET
LADDER RACK (FOR WHEN MESHSIDES REMOVED)
3 WAY TIPPING ACTION
Original Ifor Williams next generation power tipper trailers for sale
Ifor Williams Tipper Trailer Models: TT2515, TT3017 and TT3621.
We do NOT sell cheap Chinese imitation trailers
Ifor Williams next generation power tipping trailers, a regular on building sites all over the UK and Europe, an Ifor Williams power tipping trailer is the builder's perfect partner.
There are three models in the new Ifor Williams tipper range, TT2515, TT3017 and TT3621, each designed to offer a specific blend of load capacity and flexibility, all built with safety in mind.
This next generation of Ifor Williams tipper trailers offer:
Greater payload
Aluminium planked floor on all models
Increased tipping angle
Tipper pump now mounted under the trailer bed provides extra protection
Hinged mesh sides
Improved dropside design
Enhanced rear light protection through improved tipping geometry
Mesh light guard option for further protection
Storage box for tipper control
Double hinged tailboard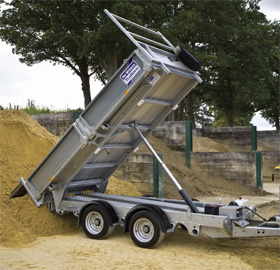 The TT2515 (8' x 5') tipper trailer is the smallest of the Ifor Williams tipper trailer range. It has a maximum gross weight of 2700kg with the option of a manual or electric hydraulic pump (and self contained 12v battery). The trailer comes with a strengthened aluminium floor as standard.
The two larger Ifor Williams tipper trailers, the TT3017 (10' x 5'6") and TT3621 (12' x 6'6") are both electrically operated tippers with a self contained 12v battery.
We have these new Ifor Williams power tipper trailers in stock at our site at Whichers Gate Garage, Rowlands Castle in Hampshire and ready for immediate delivery or collection.
The new tipper models feature a greater strength to weight ratio which has allowed Ifor Williams to further increase the payload of their tippers.
Changes to the configuration of the chassis and body provide improved protection against accidental damage to both the tipper pump and the rear lights.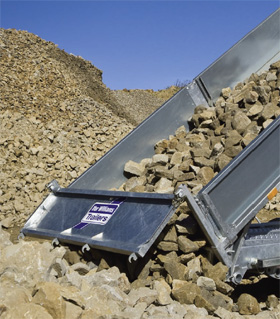 Genuine Ifor Williams power tipping trailers. Made in the UK and in stock.
New tipper trailer features to enhance usability
Improved hinged mesh sides
Lockable storage box for the tipper remote control
Reduced gaps on drop sides
Skid carrying capability on all of the tipper models, including the TT2515 (8' version)
Ifor Williams tipper trailer optional extras
Skid Carrier
The skid carrier is an optional accessory on the tipper range. 2.4m long (8') steel or aluminium
Loading Skids
Used to load wheeled and tracked plant equipment.
Propstand Kit
To be fitted when loading and unloading plant.
Removable Ladder Rack
A new design allows two different height settings to be used.
Rear Light Guards
Road legal rear light guards offer further protection when tipping.
Toolbox
A convenient lockable toolbox for carrying loose items.
Floor Mounted Lashing Points
Rated at 500kg, lashing points are recommended for users who carry items of plant.
Mesh Sides
A versatile accessory which now features hinged sections for added convenience.
Electric Winch
Powerful and robust electric winch with corded remote control unit.
Ifor Williams power tipper trailers in stock at Blendworth Trailer Centre and available for immediate collection or delivery.
Tipper Trailer
Model

Tyres

Gross
Weight

Unladen
Weight

Internal
Length

Internal
Width

Overall
Length

Overall
Width

TT2515 (Manual)

165R13C

2700kg

700kg

2.46m/8'

1.49m/4'8"

3.81m/12'3"

1.59m/5'5"

TT3017

195/60R12C

3500kg

870kg

3.01m/9'9"

1.62m/5'6"

4.37m/14'1"

1.72m/5'8"

TT3621

195/60R12C

3500kg

990kg

3.62m/11'9"

1.95m/6'5"

4.96m/16'7"

2.06m/6'8"

TT2515 (Electric)

165R13C

2700kg

730kg

2.46m/8'

1.49m/4'8"

3.81m/12'3"

1.59m/5'5"
Brenderup power tipper trailers
Brenderup 3 sided tipper trailer
Brenderup's tipper trailer range has a frame welded together and made from 3mm hot dipped galvanised steel.
The battery case is located on the draw bar. A safety advantage as the battery or pump can be serviced without raising the platform.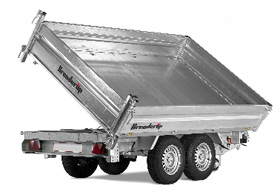 Get in touch

For more information and advice on our full range of Ifor Williams power tipper trailers and Brenderup tippers for sale or tipper trailers for hire please call on 02392 412 731 or email sales@blendworthtrailers.co.uk.
We also service and repair tipper trailers, inspect and fit tow bars.